A quick look at the web's most beautiful and customisable online timeline maker.
Tiki-Toki Timeline Maker was launched in 2011 by London-based digital product company Webalon Ltd.
It has rapidly become one of the leading timeline software apps on the web. Thanks to an emphasis on beautiful design, customisation and usability, it has proved popular with a wide range of people. More than a million users have signed up to create timelines using Tiki-Toki, everyone from educators and history buffs to lawyers and project managers.
Many users take advantage of our free account to create a fully-functional timeline that they can share online with their friends and colleagues. Others opt for our premium accounts (find out more here) which allow them to embed the timeline in their blog or website.
In particular, Tiki-Toki is loved by marketing professionals who see the potential of Tiki-Toki's media-rich timelines in highlighting their organisation's achievements. Many use Tiki-Toki timelines to celebrate a company's 10th, 20th, 50th etc anniversary, taking advantage of our software's customisation options to create a timeline that perfectly matches the company brand.
Tiki-Toki Timeline Maker not only allows you to choose your own background image for a timeline but also lets you select your own color scheme. Our software also provides the full multimedia gamut, allowing you to include videos, images and audio in a timeline. Thanks to these options, no two Tiki-Toki timelines look a alike, which is important when you are trying to make your brand stand out from the crowd.
It is no idle boast to say that Tiki-Toki is the most customisable timeline maker on the web, offering no less then four distinct timeline views, including our pioneering Category Band view (see the second image below) which splits the timeline into horizontal bands for each category the user creates. Then there is our stunning 3d timeline view (See main image). There is nothing else like it on the web.
But it is not just in the technical and design departments where Tiki-Toki Timeline Maker stands out. We also take great pride in our customer service. Unlike other online services, your support emails will not languish for weeks without any response. We will respond to support queries as soon as we can; at the most within one or two working days of receiving them; and usually much sooner. It not unusual for users to get an email back from us within minutes.
They say a picture is worth a thousand words. So without further ado, find below some examples of the kind of beautiful multimedia timelines you can create using Tiki-Toki.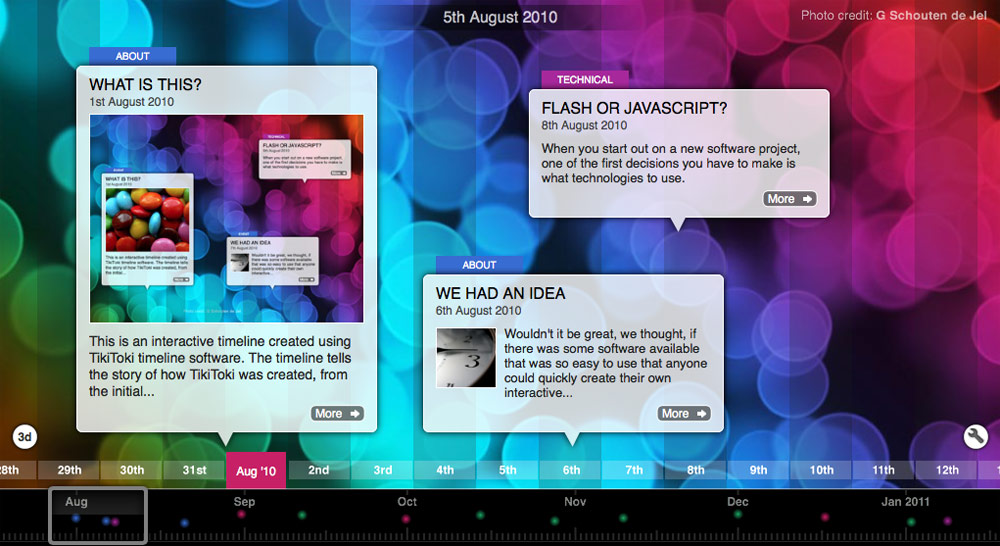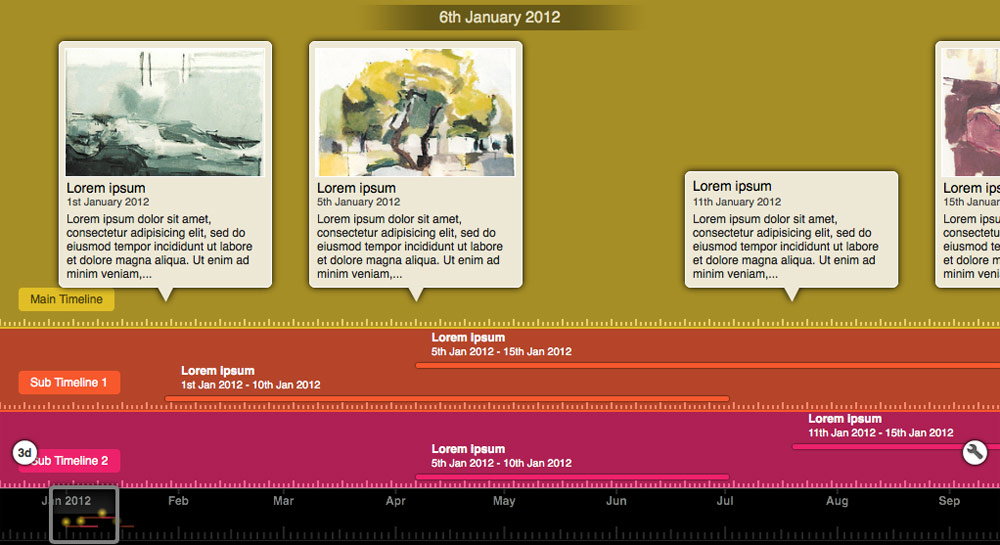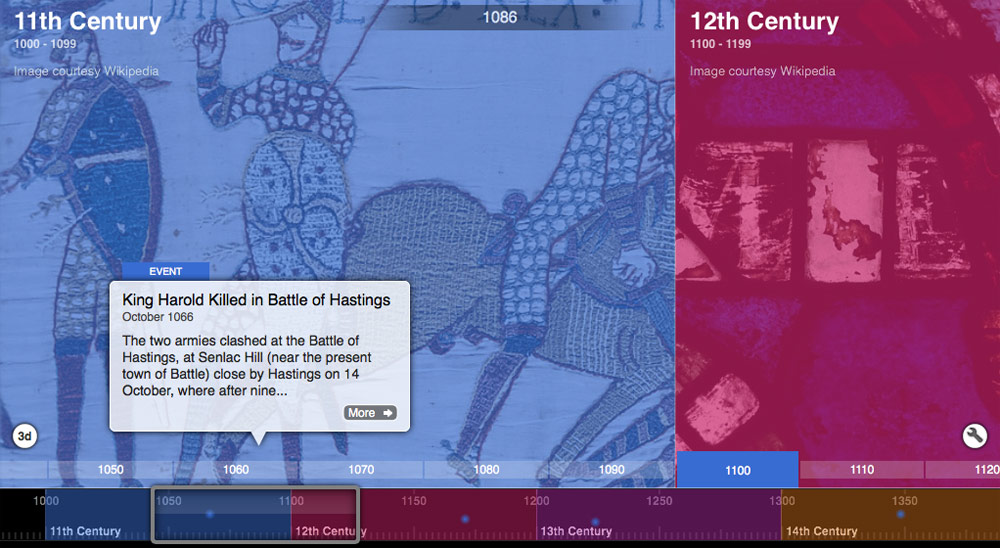 At Tiki-Toki Timeline Maker, we're always happy to hear from users, whether it is because they need help using our software, want to offer some feedback or are keen to show us a timeline they have created using our software.
If you want to get in touch, please send questions or feedback to the below email addresses. Before contacting us, you may wish to visit our FAQs and tutorials pages which have lots of useful info on Tiki-Toki.
We can be contacted by email at: hello@tiki-toki.com.
If you are having any problems with Tiki-Toki, please contact us as at: help@tiki-toki.com
You can also get in touch with us via twitter at twitter.com/tiki_toki, or on Facebook, or on Google+.
If you would like to write to us, please post correspondence to:
Webalon Ltd, 27 Old Gloucester Street, London WC1N 3AX, United Kingdom